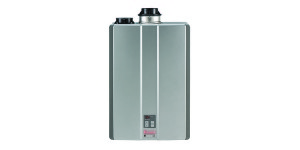 PEACHTREE CITY, Ga. — Rinnai has expanded its commercial line with the introduction of the C199 model, a condensing tankless water heater with a heat exchanger designed specifically for the demands of business. These 199,000 Btu models operate more efficiently than tank-style water heaters, saving on operation and life cycle costs. Available in both natural gas and propane, the commercial Energy Star-certified C199 produces an endless supply of hot water for businesses of all sizes using less energy than traditional commercial water heating solutions.
"Our new commercial model is designed to help optimize business operations with an endless supply of hot water, lower energy use, space savings and provides an easier install for the contractor," said Tracy Young, product development manager for Rinnai's Commercial Division.
The C199 is capable of temperatures between 98 and 185 F without the use of an additional controller. It can be installed individually and comes standard on Rinnai's multi-unit freestanding or wall mount Tankless Rack System. New venting options, such as room air common venting and sidewall intake, both with vertical exhaust, provide streamlined installations for Rinnai's TRS.
The individual C199 commercial condensing units or Tankless Rack Systems are now available for order through Rinnai wholesale distribution. For more information, visit rinnai.us/commercial/products.