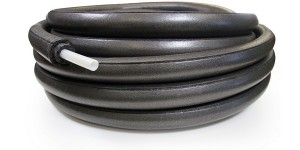 Uponor is extending its current pre-insulated crosslinked polyethylene pipe offering to include insulation thicknesses up to 2 inches to comply with the ASHRAE 90.1-2013 Energy Code and the 2012 International Energy Conservation Code.
The new offering includes both Uponor AquaPEX pipe for potable plumbing applications, as well as Wirsbo hePEX oxygen-barrier pipe for hydronic heating and cooling applications.
For more information, visit www.uponor-usa.com.