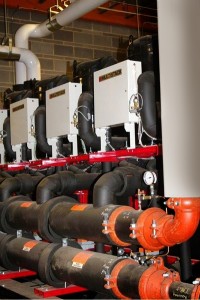 ST. LOUIS, Mo. — Masters recently completed a $9-million HVAC modernization project at North County Technical High School in Florissant, Missouri for the Special School District of St. Louis County. Air Masters served as the mechanical contractor and designer as well as the prime contractor. The three-phase Design/Build project began March 24, 2014 and was completed on Aug. 1.
Air Masters replaced the HVAC system, associated electrical systems and building automation controls for the entire facility. The design consisted of upgrading the mechanical system and expanding the system to include the shop classrooms. Air Masters installed a new high-efficiency hot water boiler system, a new high-efficiency chiller system and a unique heat recovery chiller system with new hot water and chilled water mains, a cooling tower, pumps, ductwork, fans and ventilators. New air handlers were installed for the gymnasium, culinary arts, fashion design and locker rooms.
The original HVAC system was kept operational while the new main HVAC system was being constructed. In addition, each trade shop at the technical school required a specialized design. The welding shop, for example, required three exhaust fans serving 26 welding booths. The diesel shop needed an exhaust system built under the floor to serve exhausting diesel motor fumes.
Air Masters has been named a Construction Keystone Award finalist by the Associated General Contractors of Missouri for their work at North County Technical High School. The AGC Construction Keystone Awards honor firms that exhibit excellence in providing solutions to unique obstacles and challenges specific to their project. Winners and finalists will be announced in November.