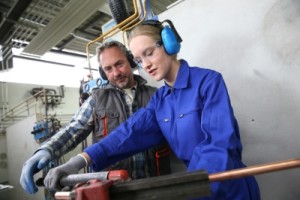 NOVI, Mich. — BrassCraft Manufacturing recently announced it is continuing to offer $1,500 scholarships to support the next generation of skilled tradesmen and women. These funds help to offset costs for the plumbing apprentices enrolled in accredited four-or-five year training programs.
The company has been working with not only associations (like the PHCC Educational Foundation and its individual chapters and Associated Builders & Contractors), but also with independent technical and trade schools supporting plumbing apprentices on the road to becoming journeyman plumbers.
For more information about the scholarship program, contact Jill Shippy at jshippy@brasscrafthq.com.
Photo courtesy of BrassCraft Manufacturing Company.