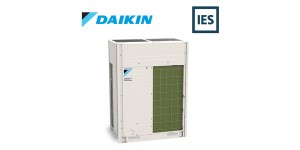 HOUSTON, Texas — Daikin North America LLC recently released a bespoke plug-in for its Daikin VRV systems to be used with the IES-VE integrated analysis tool. Building on an existing relationship between DNA and Integrated Environmental Solutions in the United Kingdom, DNA has reconfigured the plug-in for use in North America and incorporates the Daikin VRV product portfolio and features reflective of the systems commercialized for sale in this market.
More about IES and IES-VE
IES is a provider of integrated performance analysis software and consultancy for sustainable building design. Its mission is to advance the sustainability of the world's built environment through the use of integrated performance modeling technology, delivering resource efficient, low-energy, zero-carbon buildings and cities for future generations.
IES-VE (Virtual Environment) is an innovative, award-winning and in-depth suite of integrated analysis tools. It is one of the leading Energy Simulation programs in Europe and now gaining awareness and growing user-base in North America.
What is Daikin VRV Plug-in?
It is a new specification tool enabling consultants to make energy simulation for Daikin heat pump and heat recovery VRV systems including the innovative and energy saving Variable Refrigerant Temperature function, in a modeling methodology.
It includes data sets for Daikin VRV III and IV, both heat pump and heat recovery outdoor units, as well as all the currently available indoor unit models.
It helps determine the system requirements needed to meet the energy efficiency and building regulations.
The plug-in covers all Daikin VRV-III and VRV-IV outdoor and related indoor models and can be used throughout the project design process.
Features
Simulates on-site performance based on climate data to better capture the weather-dependent energy performance of VRV systems, including the benefits of 'VRT' function.
Simulates and compares different systems based on the building load.
Allows Branch Selector Box group selection to better capture the characteristics of the heat recovery system.
Generates power input calculations for the whole year using detailed engineering product data.
Calculates the building load using ASHRAE load method.
Exports VRV equipment sizing details to Excel for review.
What Daikin Provides
The Daikin VRV Plug-in is free to download from Daikin City or at daikinac.com website.
Comprehensive training and modeling guide provided to help users utilize the tool and ensure a successful VRV system design.
Continuous product information updates will be applied to reveal the up-to-date efficiencies of VRV systems.
Continuous investigation will be applied to improve the accuracy and capability of the Daikin VRV Plug-in.
Note:
IES-VE and the Daikin VRV plug-in are software solutions to aid the building energy simulation process during the design phase of a project. The calculation results from this software can vary from how a building actually performs and operates after commissioning based on varying occupancy schedules, ambient conditions, actual building "as-built" situations and other elements not considered during the modeling process.
For more information and to download the new Daikin VRV Plug-in, visit www.daikinac.com/content/resources/software-tools/#ies-ve.