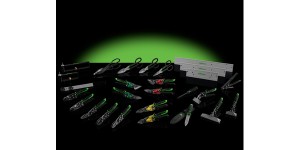 hilmor offers an assortment of Sheet Metal and Duct Tools commonly used during a duct work installation or repair. These specialty tools are used for cutting, shaping, crimping, joining and bending sheet metal.
The line of hilmor spring-loaded sheet metal tools are made with a reinforced chrome silicon spring that assures durability for the life of the tool. Over-molded handles are comfortable to hold and eliminate hand fatigue. Specific tools are made to be used on rectangular duct while others are great for application on round duct.
When working with rectangular duct, the hilmor V-Notcher is used to create 1-inch v-shape cut outs in sheet metal. It helps with notching clean corners and is often used for creation of flanges. Its stainless steel blades increase life and durability of the tool.
When it comes time to put the duct work all together, the hilmor Snap Lock Punch permanently joins two pieces of sheet metal together by creating a louvered shape projection. The steel blades ensure performance every time.
And if ready to seam or bend sheet metal, the hilmor Hand Seamers get the job done. hilmor offers three different types of seamers depending on the customer's needs—a 3-inch Seamer, 6-inch Seamer or an Offset Hand Seamer. The Offset Hand Seamer is the best bet when working with duct above the head and/or in tight spots. They all feature stainless steel blades, and ¼-inch-depth marks on the blade to help make quick bends, ideal when working with up to 18-gauge stainless steel and 22-gauge cold-rolled steel.
When working with round duct the hilmor, Pipe Duct Cutter will be the go-to tool. It creates clean, seamless edges without leaving surface distortion. Its sharp and durable blades will cut up to 18-gauge sheet metal and 22-gauge stainless steel time and time again. The hilmor Hand Crimpers can be used for making male-ends in round duct; they come as a 3 Blade Crimper or a 5 Blade Crimper and are made to last with durable steel blades.