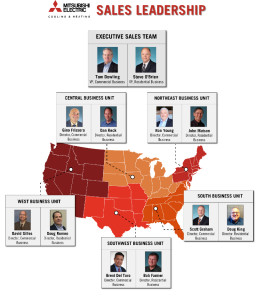 SUWANEE, Ga. — Mitsubishi Electric US, Inc. Cooling & Heating Division has restructured the business unit sales leadership teams. Joining an existing team of directors, the following commercial business directors have been named: Brent Del Toro, Southwest Business Unit; Gino Frissora, Central Business Unit; David Gilles, West Business Unit; Ron Young, Northeast Business Unit and Scott Graham, South Business Unit. In their new roles, the directors oversee their regions' commercial sales forces, as well as the strategic direction of current and future business. Additionally, each director serves as the liaison with customers, other business units and the leadership team.
The commercial business is led by Tom Dowling, vice president, commercial business; residential business is headed by Steve O'Brien, vice president, residential business.
Brent Del Toro brings 20 years of experience in sales. Previously employed at Lennox Industries, Inc., he oversaw a multimillion dollar increase in sales revenue over a four-year span.
Previously managing a 10-member commercial sales team at Lennox Industries, Inc., Gino Frissora was selected based on his extensive experience and expertise in strategic district planning, new account development and the sales cycle process. He brings 25 years of experience in the HVAC industry.
David Gilles joined Mitsubishi Electric in 2004, previously holding the position of commercial business unit sales manager in the West Business Unit. He was promoted to director because of his proven team leadership and market strategy skills.
Ron Young has been promoted to the position of director. He joined Mitsubishi Electric in 2008, where he has held the position of commercial sales manager of the Northeast Business Unit. He brings 35 years of HVAC industry experience, with over 20 years in sales management to his new role.
Scott Graham has been with Mitsubishi Electric since 2007, where he previously held the position of commercial sales manager. Prior to joining Mitsubishi Electric, he served as director of design/build services at Freeman Mechanical.