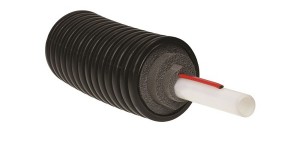 Uponor now offers a new pre-insulated PEX pipe system for underground potable-plumbing applications that provides energy-efficient freeze protection in cold climates. The new Ecoflex Potable PEX Plus pipe features 1¼-inch Uponor AquaPEX service pipe with a 7 W/ft. heat-trace cable that runs the entire length of the pipe.
The pipe, which is approved for underground potable-water applications, is available with a full line of accessories and uses Uponor's ProPEX ASTM F1960 expansion fittings for durable, reliable connections. It is offered in 300-foot coil lengths, with custom-cut lengths available as well.
For more information, visit http://uponor.media-resources-ordp.com/2015/uponor-launches-ecoflex-potable-pex.shtml.