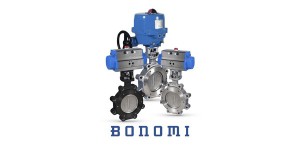 CHARLOTTE, N.C. – Bonomi North America has introduced a new series of high-performance butterfly valves for use in in commercial and industrial heating, ventilation and air conditioning, hydrocarbon and chemical processing, power generation and other higher temperature and pressure applications. The new valves are built with an ISO 5211 mounting pad and square stem for easy direct-mount automation with electric or pneumatic actuators.
Bonomi Series 8000 (carbon steel body) and 9000 (stainless steel body) are available in 2-inch through 12-inch sizes in both lug and wafer styles, ANSI Class 150 and 300. Larger sizes, 14 inches through 24 inches, are available on request.
The 8000/9000 Series is designed to meet or exceed the following standards: API 598 testing, API 609, ANSI 16.5, MSS SP-25 marking, MSS SP-61 testing and MSS SP-68 design. They can be used for throttling or isolation of hot water, condenser water, chilled water, steam, glycol, compressed air, chemicals, hydrocarbons and other media.
Standard features of the new valves include a blowout-proof stem made from 17-4 PH stainless steel for extreme hardness and disc support, and replaceable seats made from carbon graphite and glass-filled PTFE for higher temperatures and pressures. Bonomi's compact design allows easy access to the multiple V-ring stem packing.
All Bonomi butterfly valves are tested to 100 percent of their rated pressure before shipping.
Bonomi is one of the very few fully integrated manufacturers of both electric and pneumatic actuators and direct mount valves. Series 8000/9000 butterfly valves can be easily performance-matched to the company's Valbia-brand actuators for optimal performance, long life and quiet operation.