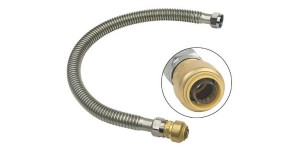 NOVI, Mich. — BrassCraft Manufacturing recently launched its new Push Connect Water Heater Connectors, the Speedi Plumb PLUS Polymer Braid and ProCoat Coated Stainless Steel connectors—designed for the plumbing professional.
The Speedi Plumb PLUS Polymer Braid connector features a patented design that helps reduce kinking or crimping. The polymer braid is specially engineered to resist corrosion from most household cleaning products. The ProCoat Coated Stainless Steel product offers superior corrosion resistance from most harsh chemicals that cause pin hole leaks; has ¾-inch full flow internal diameter for maximum performance and is 100 percent leak tested for trusted performance and reliability.
Other product highlights shared by both products include:
Compatible with copper, PEX and CPVC connections
No soldering or glue is needed for installation
A pre-inserted tube stiffener aligns perfectly with the connector tubing to produce a long-lasting and watertight seal
For more information about BrassCraft products, visit www.brasscraft.com.
Source: BrassCraft Manufacturing.