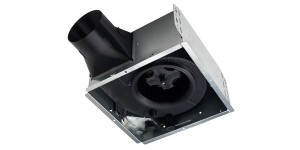 HARTFORD, Wis. — Broan-NuTone has released its new InVent Series. The patent-pending InVent Series revolutionizes mid-range ventilation fans with new installation benefits, superior airtightness and LED lighting, all designed specifically for building and remodeling professionals. In addition, the InVent Series is manufactured in the USA, offering service levels and responsiveness that customers demand.
The InVent Series' FoldAway mounting ears and TrueSeal damper technology, both exclusive to the line, as well as the EzDuct Connector, provide an easier installation process, 100 percent room-side installation and improved airtightness performance. Whether managing a new construction project or room-side replacement installation, the InVent Series offers contractors flexibility and performance from one hardworking product line.
InVent Series ventilation fans feature FoldAway mounting ears and the EzDuct Connector, which allow for easy installation. The FoldAway mounting ears allow contractors to use just one fan for both new construction or retrofit applications. The EzDuct Connector makes connecting the fan housing to the duct easier than ever before, with no attic access required.
With the new TrueSeal damper technology, InVent fans reduce air leakage by up to 50 percent compared to competitive models, resulting in better home energy efficiency as measured via blower door tests. In addition, new grille designs, LED lighting and Energy Star options provide contractors and homeowners with a full range of choices, all at a mid-range price point.