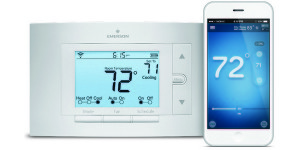 ST. LOUIS, Mo. — White-Rodgers, a business unit of Emerson and part of the Emerson Climate Technologies business segment, has added a new feature to the company's top rated Sensi Wi-Fi programmable thermostat.
This new feature allows homeowners to remotely lock the thermostat keypad to prevent adjustments to the thermostat's programmed settings. These accidental or unwanted changes to the thermostat can lead to higher heating and cooling bills.
A keypad icon is displayed if a user presses any buttons on the thermostat, indicating the lockout feature is enabled. Even in lockout mode, users still have full control over the operation of the HVAC system via the Sensi app.
The keypad lockout function has been delivered to all connected Sensi thermostats, and new thermostats shipped prior to June 1 will be updated to enable this feature within 24 hours of the activation.
For more information, visit  www.EmersonSensi.com.