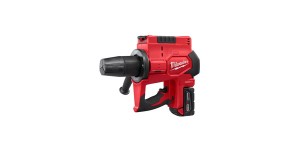 MILWAUKEE, Wis. — Milwaukee Tool and Uponor will begin transforming commercial jobsites this fall with the introduction of the industry's first expandable 3-inch PEX and the only tool on the market that can expand it, the M18 FORCELOGIC 2-3-inch ProPEX expansion tool. Joining Milwaukee's current line of award-winning ProPEX expansion tools, the new tool will be part of a complete solution to provide the industry's most consistent commercial installations.
The new M18 FORCELOGIC ProPEX expansion tool, like its M12 and M18 predecessors, will feature a continuous expansion design and auto-rotating head for even pipe expansion and maximum installation speed. With an electronically controlled, powerful 10T hydraulic mechanism, the tool expands, rotates and resets automatically.
True to its FORCE LOGIC name, the 2-3-inch expansion tool was designed to deliver the single best user experience. Its intelligent design provides the user optimum balance in overhead connections and can also be flipped over to sit squarely on a tabletop for extended use onsite or in the shop.
Compatible with the entire M18 system, the new tool is part of the fastest growing cordless system in the industry, now offering more than 70 cordless Lithium-Ion products.