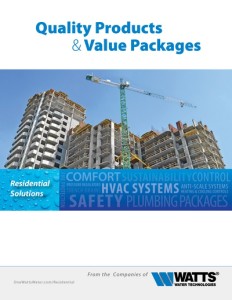 NORTH ANDOVER, Mass. — Watts Water's new 12-page brochure showcases a comprehensive family of plumbing, heating and water quality products for residential applications. The brochure divides the offering into five categories – potable, HVAC, fire protection, drainage and water quality & conditioning products.
Addressing one of the biggest challenges plumbing contractor firms are tackling, the brochure highlights solutions for transforming a multi-family dwelling into a safe and efficient building. Those solutions are provided by five Watts Water Technologies companies – Watts, AERCO, BRAE, BLÜCHER and Ames.
Download the new brochure at http://media.wattswater.com/F-WWT-Residential.pdf.