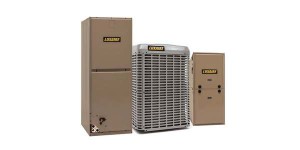 MILWAUKEE, Wis. — Johnson Controls meets 2015 U.S. Department of Energy efficiency standards with its new Luxaire residential heating and air conditioning split systems. The systems also deliver significant energy savings. Air conditioners with a 14 Seasonal Energy Efficiency Ratio save 29 percent more on energy efficiency than older 10 SEER models. The family of completely redesigned products will include 21+ SEER models, thanks to variable-speed technology.
The air conditioners, heat pumps and air handlers are also rated in accordance with AHRI Standards 210/240 and meet relevant ASHRAE 90.1, EPACT 2005 and ENERGY STAR standards.
The application of state-of-the-art quality control and assembly processes from Johnson Controls' advanced manufacturing expertise help to deliver residential split systems with enhanced reliability contractors can feel confident to install. And the installation process is made easier by a number of features that define the units' contractor-friendly design, beginning with a smaller footprint that accommodates gates, hand trucks, vans and site pads. Other features include:
Easy top and side access to commonly serviced items
Indoor unit with front-mounted controls and slide-out blower
Outdoor unit with convenient, sealed, swing-out control box
Factory-installed liquid line filter drier
Conveniently located service valves
Sturdy, flat fan guard design that resists dents
Smooth edges for easier handling
Standardized design that reduces complexity with fewer replacement parts contractors must carry in inventory and on service trucks
Indoor and outdoor units designed for system optimization and precise matchups
Additionally, outdoor units reduce sound levels to 71 dBA, and an improved airtight cabinet design meets strict 2 percent or less air leakage requirements. A corrosion- and rust-resistant coated finish on steel wire fan guards and external fasteners and pre-treated, G90-equavalent galvanized steel chassis components combine to enhance durability.
Contractors can also count on easy access to products and support steams for seamless business operation. In addition, a comprehensive and competitive product portfolio equips them with a variety of price points and options to meet a wider range of customer needs.
To learn more about Luxaire residential split systems, visit www.luxaire.com/lxsplitsystems.