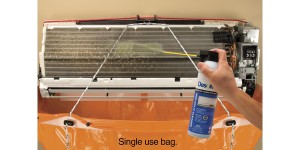 RectorSeal Corp.'s RectorSeal Desolv is now available in convenient 16 ounce aerosol cans. Desolv Aerosol and its two-stage spray nozzle safely powers off dirt, biological contaminants, debris and films within minutes with its concentrated, atomized and odorless spray that penetrates deeply into mini-split evaporator coils and blowers.
The self-rinsing Desolv Aerosol is the convenient, portable jobsite mini-split cleaning solution that doesn't require large quantities of chemicals, containers or spray applicators.
After comprehensive testing on all major mini-split brands and models, the Desolv formula will dislodge and dissolve contaminants that potentially reduce coil heat transfer and clog evaporator condensate drain pan orifices. Desolv's formula contains no acid or aggressive chemicals like most conventional air conditioning coil cleaners. Its proprietary formula doesn't separate regardless of storage time. Desolv's formula is safe for the aluminum, copper and metal alloys of sensitive evaporator coil tubing, as well as fins and plastic housing covers on all mini-split brands.
The Desolv formula is safe for use with mini-split piston, diaphragm- and peristaltic-style condensate pumps because it dissolves contaminants that could potentially clog pump filters and internal components.
Desolv's non-caustic formula doesn't degrade indoor air quality in sensitive environments such as clean rooms and data centers. Its non-fragrant, bacterio-static formula is also ideal for healthcare environments, where occupants can be sensitive to odors, chemicals, airborne microbial contaminants or gaseous chemicals.
Other benefits of Desolv Aerosol are:
Unique two-stage actuator nozzle offers a low-flow stream when the hinged straw holder assembly is flipped up into position, and a high-flow stream when it's flipped down. The straw is permanently attached to the hinged flip-up holder assembly and can't be lost or misplaced.
Pairs well with RectorSeal's Desolv Cleaning Kit, a protective, easily attached plastic bag assembly that protects walls and floors from over-spray and dripping during evaporator coil cleaning.
Increases heat transfer to maintain mini-split efficiency.
Recommended for use in coils used in both cooling and heating seasons.
Available through all major HVAC wholesale distributors.
Desolv Aerosol complements RectorSeal's full line of ductless mini-split installation and cleaning accessories such as NoKink–flexible lineset connectors; Mighty Bracket–an award-winning mini-split evaporator installation support tool; Novent—locking caps for securing refrigerant access valves; SlimDuct and Fortress—lineset protection ducting; ACTabs—drain pan and condensate drain line protection; PairCoil—pre-insulated linesets; Aspen—condensate pumps and a variety of other accessories for condensate management and equipment mounting.
For additional information, visit www.rectorseal.com or call 800-231-3345.