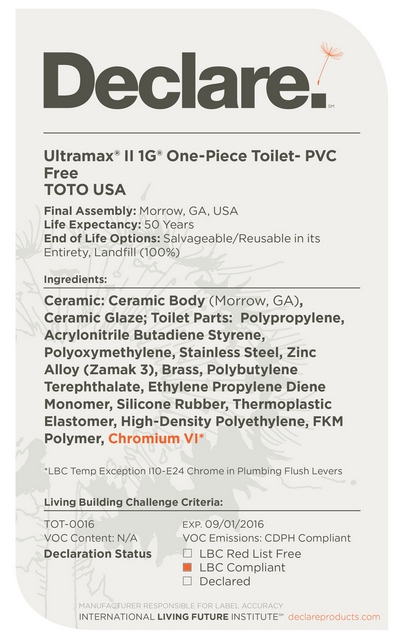 MORROW, Ga. — Committed to transparency in the manufacture of products that contribute to a healthy, sustainable environment, TOTO has achieved another plumbing industry first by offering material health evaluations for an initial six high-efficiency toilets. TOTO is now the only plumbing manufacturer whose products have earned the International Living Future Institute's Declare label and are listed in the Declare Products Database.
Declare Labels
Often compared to the nutritional labeling found on packaged food, Declare labels focus on specific information important to consumers and building industry professionals by offering a transparent platform for the disclosure of materials, chemicals and elements known to pose risks to human health or the environment. After a thorough investigation of their constituent materials, TOTO's initial six HETs have been listed in the Declare database as Living Building Challenge Compliant or "declared."
During the rigorous Declare label evaluation process, TOTO learned that changes to its product line would be required to be Living Building Challenge Compliant. The polyvinyl chloride in its toilets' rubber flappers, plastic refill tubes and seat pads is deemed hazardous. As a result, TOTO began working with its vendors to produce PVC-free flappers, refill tubes and seat pads. TOTO now offers PVC-free high-efficiency toilets, which are Living Building Challenge Complaint.
Sustainable Minds Material Health Overviews
Using its new Declare labels' data as the foundation, TOTO partnered with Sustainable Minds to develop the next in the company's suite of Transparency Products – the SM Material Health Overview. Based on the award-winning Transparency Report, which the partners' earlier innovated in EPD design and delivery, TOTO's new PVC-free MHO is a strategic marketing and lead-generation tool. Designed to inform safer purchase decisions, it makes material health evaluation information meaningful by describing what TOTO is doing to improve the material health of its products. TOTO's new MHO delivers functional and material health attributes for its PVC-free products in one place and is available as a standalone MHO report.
TOTO's new PVC-free MHO may be viewed on the Sustainable Minds' website in the  TOTO Showroom.
Design and construction professionals and consumers seek products that are healthy and ecologically sound, without the necessity of undertaking an exhaustive research process to identify them. TOTO is dedicated to assisting in this process by providing deeper and deeper levels of transparency about its products' material health and environmental impacts.