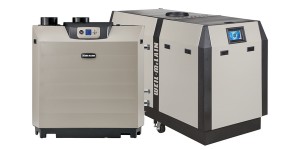 BURR RIDGE, Ill. — With a number of innovations, Weil-McLain now offers an enhanced line of its popular SlimFit high-efficiency condensing gas boilers. New features include improved boiler-to-boiler communication, Modbus and BACnet for linking with building automation systems, express setup wizard, 10 preset typical heating systems and updated controls interface for simpler navigation, at-a-glance boiler status, diagnostics and troubleshooting.
With proven durability and reliability, SlimFit boilers are manufactured for easy integration into existing systems. The updates to the boilers increase usability and access for installing contractors, consulting engineers and facility managers.
The boiler's narrow housing offers improved maneuverability for confined spaces and weight restricted areas, a critical solution for commercial retrofit projects. The units come completely factory assembled allowing for on-site plug-and-play installation, lowering installation costs and ensuring timely project completion.
"SlimFit boilers arrive completely packaged, pre-wired, fully tested and pre-programmed," said John Kopf, senior product manager with Weil-McLain. "The smaller boilers are lightweight units and the larger boilers come with wheels which make them extremely easy to maneuver and install.
"They can be quickly wheeled off their shipping palettes, which come with metal wheel tracks and a durable, securable ramp. If needed, they can be partially disassembled to reduce the boiler weight and the overall length of the boiler by almost 50 percent," Kopf added.
SlimFit boilers are tested to achieve 96.1 percent combustion efficiency and 95.8 percent thermal efficiency, making the product line one of the most cost-effective boiler systems to operate and maintain for retrofit applications. In addition, simple and intuitive controls allow for minimal ongoing maintenance, which further helps to lower operating costs for the owner.
Other key features include:
5 sizes from 550,000 to 2,000,000 Btu/hr
Low NOx less than 20 PPM
Modulating burner with up to 6:1 turndown ratio
CSD-1 compliant is standard
Fully customizable outdoor temperature reset curve
Flexible venting configurations up to 100 ft
Zero clearance requirements on one side of the boiler for back-to-back installations
Backed by an industry-leading, 10-year non-prorated heat exchanger and two-year parts warranty, the updated SlimFit line is the fastest, easiest solution for limited-space retrofits.
The Weil-McLain SlimFit boilers are in stock, available for immediate shipment and quick delivery. For more information, visit www.weil-mclain.com/en/weil-mclain/pd-uc_slimfit_condensing_boiler/.