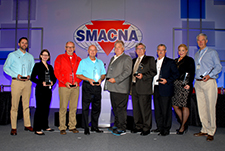 CHANTILLY, Va. — A safe track record is imperative for a successful HVAC and sheet metal contractor. The Sheet Metal and Air Conditioning Contractors' National Association recently recognized its top safety achievers through its 2015 Safety Excellence Award Program at its September convention in Colorado Springs, Colorado.
Representatives for the first-place 2015 Safety Excellence Award winners included (left to right): Chase Berman, Geauga Mechanical, Chardon, Ohio; Lauri Rollings, accepting for Martin Petersen Co., Kenosha, Wisconsin; Scott Baker, accepting for Couts Heating and Cooling, Corona, California; James Schwinkendorf, accepting for Triangle Metals, Nederland, Texas; Mike Small, Apollo Mechanical Contractors, Wilsonville, Oregon; John Connolly, SMCA of Philadelphia and Vicinity; SMACNA Director of Safety and Health Mike McCullion, accepting for University Mechanical and Engineering Contractors, Tempe, Arizona; Julie Muller-Neff, accepting for Belleview Mechanical Inc., Belleview, Washington and Les Peterson, Peterson Mechanical Inc., Sonoma, California.
The 2015 safety awards program included 220 participating firms, representing over 64 million man-hours worked in the 2014 calendar year. The average number of reported injury or illness incidents, otherwise known as the OSHA incidence rate, was 2.48—the lowest rate ever reported for SMACNA's safety survey program.
This year's first place winners are:
Over 500,000 hours
Apollo Mechanical Contractors – Wilsonville, Oregon
400,001-500,000 hours
University Mechanical and Engineering Contractors – Tempe, Arizona
300,001-400,000 hours
Martin Petersen Company Inc. – Kenosha, Wisconsin
200,001-300,000 hours
Couts Heating and Cooling – Corona, California
100,001-200,000 hours
Peterson Mechanical Inc. – Sonoma, California
50,001-100,000 hours
Geauga Mechanical Co. Inc. – Chardon, Ohio
25,001-50,000 hours
Bellevue Mechanical Inc. – Bellevue, Washington
1-25,000 hours
Triangle Metals Inc. – Nederland, Texas
Chapter Participation Awards
SMCA of Philadelphia and Vicinity