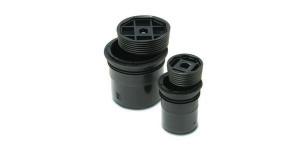 HOUSTON, Texas — RectorSeal's SureSeal product line now includes SureSeal Plus, the plumbing industry's only waterless in-floor drain trap seal with an added check valve to protect against property-damaging water backups.
The patented SureSeal Plus offers 2- and 3-inch-diameter sizes to accommodate most commercial and residential floor drains. Its sturdy EPDM, water-blocking check valve flapper and housing is designed to withstand up to five feet of head pressure. Besides flood prevention, it also uses first generation SureSeal's waterless trap seal technology to block toxic sewer gas and insects from infiltrating occupied areas.
Its unique ASSE-1072-compliant design uses a built-in ½-inch-diameter airlock vent to relieve pressure for proper drain operation. However, rising water during a flood event floats SureSeal Plus's buoyant rubber ball check into the airlock vent opening and blocks seepage through the vent.
SureSeal Plus's quick and easy installation requires push fitting into the drain opening. Then, a 3/8 socket wrench is required for turning an accessible center nut that expands the SureSeal Plus housing outward against the floor drain's interior wall surface for creating a tight gasket-like seal.
For more information, visit www.rectorseal.com.