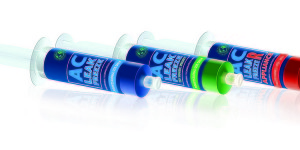 HOUSTON, Texas — RectorSeal Corp. has recently acquired the assets of Universal Technologies Inc. and its AC Leak Freeze brands of refrigeration and air-conditioning system leak repair sealants.
Universal Technologies's AC Leak Freeze is a non-polymer formula that seals environmentally damaging refrigerant leaks internally and doesn't react to moisture or oxygen. Once applied with its industry-unique injector system, AC Leak Freeze also remains in the system to seal future leaks as they occur, while also reducing component friction.
The acquisition supplements RectorSeal's expansive product line and complements its refrigerant service product category that includes, Acid-Away, Acid-Detector and Oil-ID.
Traditional HVAC/R wholesalers and contractors will experience a seamless, unnoticeable changeover when RectorSeal transitions to marketing, sales and customer support of AC Leak Freeze and its website, www.leakfreeze.com.
The Universal Technologies transaction is RectorSeal's fifth acquisition since 2011 when it acquired Airtec. Other recent acquisitions include Resource Conservation Technologies, Glue-On-Nozzle,  SureSeal and the Evo-Crete and PolySlab brands from Australian-based Evolve Group.
For more information, visit www.rectorseal.com.