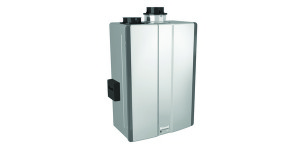 PEACHTREE CITY, Ga. — Rinnai America introduces the industry's first wireless module and app for gas tankless water heaters. By integrating Wi-Fi connectivity, new and existing residential and commercial Rinnai tankless water heaters, dating back as far as ten years, can be enabled to be monitored and controlled via smart devices for water heating management, control and maintenance. The wireless module will be available through Rinnai America Corporation's wholesale distribution early next year.
The new Wi-Fi module, which can be bundled with a new Rinnai tankless water heater purchase, or installed on an existing model, attaches easily to the Rinnai Tankless Water Heater by a two-wire interface quickly connecting through the local Wi-Fi network. Once connected and the free Rinnai app is downloaded and activated, the Rinnai tankless water heater is associated to the Rinnai independent dealer, and monitoring and communications are initiated. Additionally, the user can control their tankless water heater from a smartphone or tablet to turn the system on and off, change the water temperature, monitor status and activate the recirculation system.
For dealers, the wireless access serves as a remote diagnostics tool and saves time. The Wi-Fi module pushes system codes and other service information automatically to the dealer, either locally or remotely, allowing them to proactively contact their customers and know in advance service needs before ever leaving their place of business. Dealers are also able to reference diagnostic codes, product information, step-by-step instructions, with links to manuals, training, videos and more.