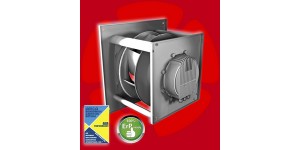 Rosenberg USA, Inc.'s model GKHM 500-CIB.160.6IF IE (460-volt), widely specified for data center cooling applications, has been fully certified by the Air Movement and Control Association International. The air performance of 500-mm, high-efficiency backward curved EC fan module has been AMCA certified.
The AMCA-certified fan module is powered by an ErP 2015 compliant 3.3 kW EC motor and delivers up to 7500 cfm of airflow at free air.
Performance curves and technical specifications for the AMCA-certified module are based upon tests carried out in accordance to AMCA Standard 210 in an AMCA laboratory. Ratings are based on tests and procedures performed in accordance with AMCA publication 211 and comply with the requirements of the AMCA Certified Ratings Program.
The fan's seven-blade backward curved impeller design (instead of the standard eight) and unique wheel geometry provide for impeller efficiencies up to 78 percent while reducing noise by up to three dB(A). It also increases airflow compared to standard impellers operating at the same speed. The blades are statically and dynamically balanced with the hub to level G6.3 DIN ISO 1940.
Rosenberg GKHM backward curved radial fan modules employ long-life, low-temperature electronically commutated external rotor motors with integrated power electronics. These highly energy efficient units meet all requirements of the European Union's ErP Directive for fans.
Rosenberg EC motors come with a pre-installed potentiometer and provide variable fan speed control from 5 to 100 percent. Air volume can be adjusted to any possible operating point. Standard voltage for the GKHM Series is 3~ 380-480VAC, 50/60Hz. The motors are UL-Recognized, CE and RoHS approved. Rosenberg EC motors are also ModBus compatible for easily networked system controls.
For more information, contact Rosenberg USA by phone at 704-893-0883 or email at sales@rosenbergusa.com.