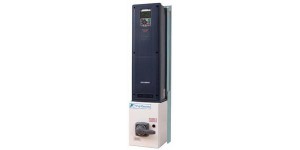 EDISON, N.J.—Fuji Electric Corp. of America has begun manufacturing its FRENIC-HVAC Combination Variable Frequency Drives in the company's new factory in Roanoke, Virginia, in order to reduce turnaround time and customize panels to suit customers' individual applications. The complete series includes 208V, 460V and 575V panels and provides ease of installation, startup and field troubleshooting.
The FRENIC-HVAC Combination VFDs include as-built CAD drawings and are ideal for applications ranging from food processing to pump control. Compatible with 22 or 30mm HMI devices, these UL-certified panels offer convenient cable entry options and come standard with Fuji Electric's industry-leading three-year warranty.
Fuji Electric opened its new 37,000-square-foot engineering and assembly facility in Roanoke, Virginia in 2015, with a focus on assembly of its Variable Speed Drive Custom Panels, Uninterruptible Power Systems and Auxiliary Power Systems.