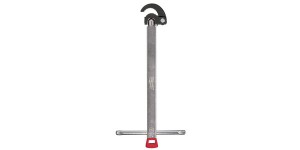 MILWAUKEE, Wis. – Milwaukee Tool continues to expand its hand tool offering with the introduction of a new line of basin wrenches designed from the ground-up to assist plumbers in making the easiest and fastest basin and faucet swap-outs.
The basin wrenches' handles feature a patent-pending, new-to-world ratchet-ready design compatible with any standard 3/8-inch drive ratchet, allowing users to install or remove basin and faucet nuts faster than with traditional basin wrench models. Also integrated in the handle are slots designed to receive a screwdriver, delivering the maximum break-away leverage required to remove corroded basin and faucet nuts. A traditional horizontal bar is also built into the shank, providing users with another way to deliver leverage in confined jobsite environments.
Most basin wrenches today are equipped with uncomfortable square handles and shanks that are difficult to adjust, making a tough job even more challenging. This new line of basin wrenches feature an ergonomic handle design inspired by the shape of a doorknob for a more comfortable fit in the hand – ultimately allowing the user to deliver the leverage required to swap out even the most stubborn basins and faucets.
The basin wrenches feature both a 4-position telescoping shank designed to deliver the smoothest adjustments between length positions, and give the user increased flexibility to access many different basin and faucet configurations.
Backed by a limited lifetime warranty, the basin wrenches demonstrate Milwaukee's commitment to deliver innovative solutions to save time and increase productivity on the jobsite.
Available Models:
Basin Wrench with 1.25-inch Cap (48-22-7001)
Basin Wrench with 2.50-inch Cap (48-22-7002)