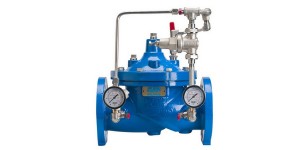 ERIE, Pa. — Zurn Industries, LLC, introduces a new model and design enhancements to its ever-growing line of Zurn Wilkins Automatic Control Valves. This expansion of the Zurn Wilkins ZW200 ACV series remains true to the line's exceptional values: simplified maintenance and repair, short lead times, ease of retrofit and lowest total cost of ownership.
With this launch, Zurn announces the Zurn Wilkins ZW221/ZW222 Altitude Valve for water level control in reservoirs and tanks.
New body and design options added to the existing lineup of Zurn Wilkins ACV products include:
Angle ACV bodies, particularly useful for fire protection applications and high-rise plumbing applications with short compact lay lengths
Reduced port ACV bodies
Additional ACV size options for the globe style body: 1-1/4-inch and 16-inch now available
This expansion of the ZW200 ACV series closely follows Zurn's October 2015 introduction of the new braided stainless steel hose (-SH option), stainless steel pilotry (-SP option) and the ZW209 Pressure Reducing Valve series, that is equipped with a standard pilot valve constructed of robust bronze and improved union connections.
For more information about the Zurn Wilkins ZW200 Automatic Control Valves, visit www.zurn.com. Visit ZurnSpec for a complete toolbox at http://www.zurn.com/ZurnSpec.