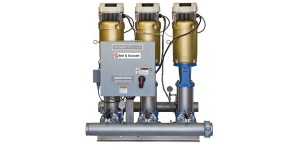 Bell & Gossett's Technoforce e-HV pump systems are pre-engineered and fabricated packaged booster systems designed to transfer and increase the pressure of clean water. The e-HV utilizes Xylem's Hydrovar motor-mounted variable frequency drive to provide multi-master variable speed pressure boosting for a variety of applications:
Hospitals
Schools
Public buildings
Industrial and plant
Hotels, inns and resorts
Condominiums and apartments
Sports facilities
Main water systems
Rural water
The e-HV booster sets are assembled with two to four vertical multistage e-SV pumps fixed onto a single base and connected in parallel via suction and discharge manifolds and fittings. The station is provided with a main system disconnect, as well as individual electrical pump isolation to ensure that each pump can be serviced without the need to shut down the entire station.
For more information, visit: http://bellgossett.com.