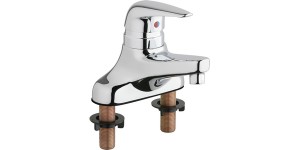 DES PLAINES, Ill. – Chicago Faucets 420 Series single-lever lavatory faucets are designed for the public restroom and for durability. The 420 Series combines the strength of solid brass construction with the dependability of a time-tested ceramic mixing valve.
These ADA-compliant faucets mount to 4-inch fixed centers and have a 4-5/8-inch center-to-center chrome plated, cast brass spouts. The mixing valve features a built-in hot water limit stop to reduce costly hot water usage and help prevent scalding. 420 Series models are available with vandal-resistant non-aerating 0.35 GPM (1.3 L/min) outlets, a 0.5 (1.5 L/min) GPM spray or a 1.5 GPM (5.7 L/min) non-aerating outlet.
To download literature, visit: http://chicagofaucets.com/pdf/CF1064.pdf or call 800-566-2100. For more information about Chicago Faucets, visit: chicagofaucets.com.