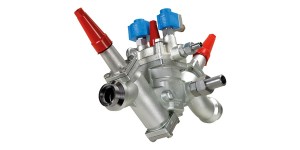 Danfoss will celebrate 10 years of ICF innovation at the 2016 IIAR Industrial Refrigeration Conference & Exhibition, by unveiling two multifunction control valves that deliver significant reductions in cost, energy and servicing and maintenance times.
Danfoss ICF multifunction control valves serve as a replacement for most conventional mechanical, electro-mechanical and electronically operated valves on the market, thereby providing a number of advantages in the design phase of a refrigeration plant as well as in the installation, service and maintenance. ICF control solutions consist of one valve housing, plus a maximum of four or six function modules.
In addition to unveiling the new products and presenting those its customers already depend on at Booths 821 and 823 of the exhibition, Danfoss will hold a Technomercial session fro 11:15-1:45 a.m. on Tuesday, March 22, to showcase its pioneering control solutions of the past 10 years, and hint at what's in store for the next decade.
The IIAR Industrial Refrigeration Conference & Exhibition is the world's largest conference dedicated exclusively to industrial refrigeration and will be held at the Caribe Royale All Suite Hotel & Convention Center in Orlando, Florida from March 20-23.