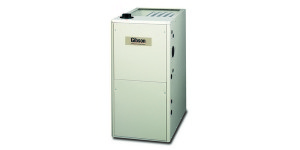 ST. LOUIS, Mo. – HVAC manufacturer Nortek Global HVAC is adding a new up to 95 percent AFUE furnace to its lineup. Model KG7SD-E comes with a factory-installed fixed-torque ECM motor; no kit needed. This new furnace qualifies for local utility rebates and the U.S. federal tax credit.
The Nortek Global HVAC fixed-torque ECM blower motor is programmable to 16 different speeds for both heating and cooling operation modes, making it extremely adaptable to challenging high-static applications, as well a greater range of heating and cooling capacities. The new furnace also features:
iSEER motor technology for up to 1 SEER point efficiency gain in cooling on 13- and 14-SEER models
SmartLite hot surface igniter for long igniter life
Insulated blower compartment for noise reduction
30-second blower delay on startup to ensure warm duct temperature
Model KG7SD-E joins the company's other 95 percent AFUE furnaces, including a single-stage model with multi-speed non-ECM blower motor and two multi-stage models. The new upflow furnace is currently available in five sizes ranging from 54,000 Btu to 120,000 Btu. A 38,000 Btu model is expected to launch in spring 2016.
Model KG7SD-E is available in the Broan, NuTone, Gibson, Kelvinator and Philco brands of HVAC equipment. Similar model MGC2SD-E is available in the Maytag brand.
For more information, visit: nortekhvac.com.