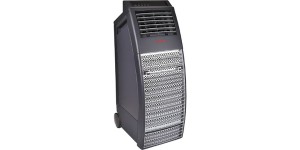 MAHWAH, N.J. – Outdoor living spaces continue to evolve into multi-season extensions of the home. With the heat of summer just around the corner, consumers will soon be seeking ways to beat the heat and extend the enjoyment of their outdoor spaces.
Enter two new Honeywell evaporative air coolers to help: models CO301PC and CO70PE. Whether lounging, grilling, playing or entertaining, these air coolers can help make outdoor activities more enjoyable – even on the hottest days. In fact, depending on local temperature and humidity, evaporative air coolers can cool surrounding temperatures by up to 15 degrees.
Both the CO301PC and CO70PE are rated for outdoor use, making them the perfect addition to any deck or patio. Unlike air conditioners, evaporative air coolers have no compressor and work with the natural process of water evaporation to efficiently and inexpensively cool the surrounding area – much like a cool breeze flowing across a lake. Moving the party inside? No problem for these indoor/outdoor Honeywell evaporative air coolers. Their heavy-duty wheels make them a breeze to move to wherever the action is for on-the-spot cooling.
Honeywell CO301PC
The rugged yet elegant CO301PC's powerful air flow cools up to 460 square feet, making it the ideal choice for gardens and large patio or deck areas. The CO301PC is a great choice for spot cooling in almost any outdoor application and is packed with convenient features:
Feather-touch control panel
Full-function remote control
Durable weather-resistant construction
Continuous water supply connection
Handy beverage can holder and top storage compartment
Honeywell CO70PE
Also rated for outdoor applications, the CO70PE cools up to 342 square feet with dual blowers for high-velocity airflow. Features include:
Massive 70-liter (18.5 gallon) water capacity
Continuous water supply connection for less time adding water and more time enjoying
the weather
Ice tray to cool the water supply even faster
Remote control and automatic-off timer
The new models will be available in stores and online nationally this spring. MSRP is $399 for the CO301PC and $499 for the CO70PE. For additional info, visit: www.honeywellportableac.com or call 201-252-2834.