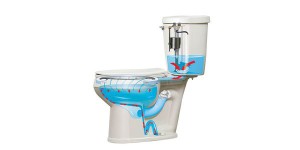 PERRYSVILLE, Ohio – Mansfield Plumbing has launched the new PROTECTOR No-Overflow Toilet featuring a unique concealed secondary drain that provides protection from messy overflow situations.
Made in the USA, the PROTECTOR solves the problem of clogged toilets displacing overflowing water onto the floor by redirecting excess water into the concealed secondary drain. There are no unsightly holes and the overflow system is hidden within the bowl.
In addition to solving the "clogging overflow dilemma," the PROTECTOR stays clean longer than standard toilets. A highly engineered PuraClean glaze on the toilet makes the bowl bacteria-resistant and easier to clean.
Available as a SmartHeight toilet, the 1.6 gallon per flush PROTECTOR sits 16 ½-inches tall and meets ADA standards, making it easy to sit and stand from this easy-access toilet. For powerful flush action, the toilet also features a three-inch flush valve design and can easily move 800 grams MaP.
For more information, visit www.mansfieldplumbing.com or call 877-850-3060.