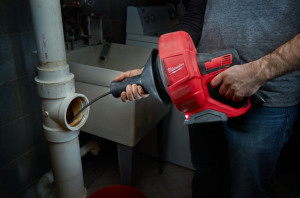 MILWAUKEE, Wis. — Milwaukee Tool expands its M12 System with the introduction of the M12 Drain Snake, developed specifically for the challenges plumbers, maintenance technicians and property managers encounter when cleaning fixtures and small drain lines. Providing the benefits of both handheld and floor-mounted drain cleaning machines, the Drain Snake's simple cordless setup, as well as its new-to-world design, deliver game-changing productivity for plumbers and contractors cleaning sinks, tubs and other small drain lines up to 25 feet long.
Powered by any Milwaukee M12 Lithium-Ion battery, the new tool provides best-in-class performance without the cord. The REDLITHIUM Battery Pack delivers more work per charge and more work over pack life, maintaining power under load better than corded competitors. In addition, eliminating the cord increases productivity and safety for the user by providing instant setup, and reducing the risk of electroshock hazards associated with AC tools in wet environments.
Typically, one of the biggest annoyances of this job is the potential for the fully exposed spinning drum to come into contact with the fixture or user. By designing a fixed shield around the drum, Milwaukee has eliminated this potential, making operation safer for the user and surrounding materials.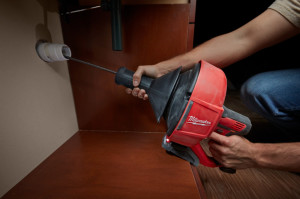 For easier cable feed, users can rest the tool on its flat base, freeing up a hand which is typically used to hold the tool. Weighing in at 10 lbs., the M12 Drain Snake is also the lightest 2-1/2-inch drain line machine. The tool's proprietary drum shield and light weight make it the easiest hand machine for overhead, below the waist and confined space use.
Milwaukee will also launch a line of drain cables compatible with the M12 Drain Snake and other professional drain cleaning machines. Capable of carrying power all the way through the end, and with the ability to maneuver the tightest bends, the new drain cables are the best mix of strength and flexibility. In addition, the cables' solid polymer core will not rust.
Milwaukee is committed to improving ergonomics and productivity for plumbers and contractors by offering them the ability to perform an entire job on one battery system. The M12 Drain Snake is compatible with the entire M12 System, now offering over 70 cordless Lithium-Ion products. The M12 platform is the largest sub-compact system in the industry, offering innovative portable solutions.