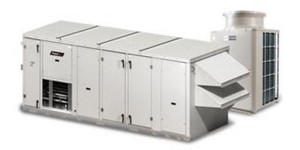 SUWANEE, Ga. – Mitsubishi Electric US, Inc. Cooling & Heating Division introduces the PremiSys Fusion Dedicated Outside Air System – a premier split-system solution for acclimatizing outside air for commercial buildings.
PremiSys Fusion DOAS is a split-system consisting of a Variable Refrigerant Flow outdoor unit and an air handler. The system is designed to handle 100 percent outside air with energy recovery models. It offers an energy-efficiency improvement of up to 20 percent over a traditional dedicated outside air system.
PremiSys Fusion DOAS is the latest innovation among the Mitsubishi Electric dedicated outside air systems. The two models – MPF-1 and MPF-2 (a split-system with energy recovery) are pre-engineered to provide semi-custom flexibility. Heating options include modulating gas heat, electric and hot water coils.
PremiSys Fusion DOAS not only offers improved efficiencies, but building owners can also save on operating costs. The use of an inverter-driven compressor in the PremiSys Fusion DOAS allows the unit to better match the conditions of the targeted temperature and outside air – this technology results in significant energy reduction during mild and moderate months of the year.
Other benefits include:
Equipment location – allows for a distributed load on the roof by separating the condenser from the dedicated outside air unit by up to 50 feet
Humidity control – single refrigeration circuit provides directly proportional reheat to the entire cooling load, allows for room-neutral conditions and humidity control
Cooling capacity of 5-20 tons
Optional accessories include smoke detectors and condenser hail guards
For more info, visit: www.mitsubishipro.com/ready.