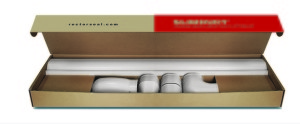 RectorSeal Corp. introduces the Slimduct  Lineset Protection Cover Kit by Inabo Denko, the original premium lineset cover manufacturer. RectorSeal's compactly boxed kit provides all the duct and fittings necessary for protecting and aesthetically concealing linesets in a routine central split system or mini-split air conditioning installation.
The kit's premium-grade duct and fittings are designed and selected for the North American commercial building and luxury home market and include four 4-foot-long lengths totaling 13 feet, three couplers, wall inlet, end fitting, 90 degree flat elbow, zip ties and rust-proof SAE 304 stainless steel fastener screws. All duct and fittings fit orderly into the HVAC industry's most compact 58 (L) by 12 (W) by 4-inch (D) (147 by 30 by 10 centimeter) stackable cardboard packaging and accommodates 85 percent of air conditioning industry applications.
Like all Slimduct products, the kit's contents are UV, weather and scratch resistant. They are constructed of heavy-duty PVC extruded lengths and injection-molded fittings, which have undergone laboratory tests that surpass the stringent tensile and bending strength outlaid by Japanese Industry Standard (JIS) K-6745 and K-7203, respectively. The duct and fittings feature an easy-to-clean glossy white surface and either a three-inch-deep or four inch-deep profile, the latter of which accommodates thicker insulated linesets used in warmer climates.
Other Slimduct Lineset Protection Cover Kit features are:
two-color red/black box's exterior depicts descriptive illustrations of duct and fittings content
requires no additional brackets, fasteners or hardware for installation
applicable to indoor as well as outdoor lineset concealment and protection
easy precursor for wholesalers to eventually stock and display Slimduct's full line of lineset protection
both sizes easily conceal condensate hose, thermostat wire and power wiring in addition to linesets
suitable for temperatures from -80 F to 140 F
easily stacked on service trucks as well as distributor shelves
available from most HVAC wholesale distributors
For additional information, visit www.rectorseal.com or call 800-231-3345.