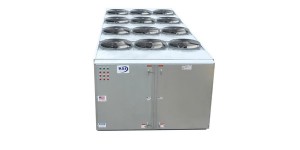 PRYOR, Okla. – Refrigeration Systems is now offering its condensing units with a unique three-fan design that delivers improved head pressure control.
RSI condensers feature three separate circuits and, in the past, shared two banks of fans. Now, with three banks of fans, each compressor circuit has its own set of fans, which helps to improve head pressure control. This design is unique to RSI.
RSI Condensing Units are available in a wide range of configurations, including single-, dual- or multiple-compressor arrangements with air-cooled or evaporative cooled systems. As a result, RSI Condensing Units are suitable to address a variety of applications and load requirements. All RSI Condensing Units are designed to operate in diverse and demanding environments including high- and low-ambient conditions and high altitude locations, and can even be treated to operate in corrosive environments.
Additionally, the units ship fully assembled and with a dry nitrogen holding charge, making installation and setup fast and easy. For more information, visit RSI's website. Refrigeration Systems is a division of RAE Corporation.