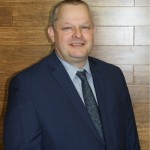 PLANO, Texas – Hajo Siemers has been named vice president of sales & Marketing for Titus HVAC. Siemers' role includes leading all sales, marketing and engineering activities for Titus. He will utilize innovative strategic planning and data analysis to achieve business growth for the company.
An industry veteran with more than 18 years of experience in strategic planning, risk management, leadership and team building, Seimers is well versed in implementing business development strategies, as well as improving the customer experience. He strives to bolster Titus' service offerings and expedite new product advancement.
Siemers previously served as the product portfolio leader for Trane's custom air-handling group. He implemented strategies that amplified the group's business portfolio and restructured the distribution support group to boost efficiency. Siemers also developed cutting-edge sales tools that improved the customer experience and increased employee engagement.
With a passion for education, Siemers taught global strategy and business development for five years at Viterbo University. He holds a Bachelor of Arts in Organizational Management from Viterbo and an MBA in Global Management from Duke University's Fuqua School of Business. He is a Six Sigma Green Belt Champion and fluent in five languages.