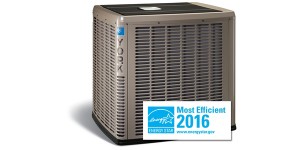 MILWAUKEE, Wis. – Two of Johnson Controls' York Affinity CZH split system air conditioners and one York Affinity YZH heat pump model have again been recognized as Energy Star Most Efficient 2016, when combined with the Affinity Residential Communicating Control.
The Energy Star Most Efficient 2016 designation is awarded to the most efficient products among those that qualify for Energy Star. This is the fifth consecutive year the York systems have earned this recognition.
In order to be named Energy Star Most Efficient 2016, product features must include:
Performance levels of up to 20.0 SEER and 12.5 EER for cooling and heating performance and 10 HSPF for heat pumps
Ability to send and receive information from at least one system controller
Automatic configuring of settings appropriate to the controlled equipment
Ability to log fault codes and transmit in plain text
Capability to provide alerts to homeowners in plain text, including service and maintenance alerts
These Energy Star Most Efficient 2016 York air conditioners and heat pumps are included on the Energy Star website.
For more information about York products, visit www.york.com.