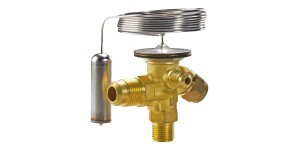 Danfoss recently marked the 50-year anniversary of T2 expansion valve production. First manufactured and delivered to Danfoss customers in 1966, the T2 has served as a fundamental part of Danfoss' expansion valve program and proven itself as a staple in a variety of refrigeration and air conditioning applications worldwide.
The T2 remains the single-most produced Danfoss expansion valve with production locations in Denmark and China. Features and benefits include:
Large temperature range that covers both refrigeration and air conditioning systems
Interchangeable orifice assembly for easy stocking and service
Stainless steel bulb and Danfoss patented bulb strap for fast and easy installation
With the T2's long history as a safe and reliable choice for Danfoss customers, it has served as the foundation for further expansion valve innovation. The TU expansion valve, launched in 1995, was the first of its kind made of stainless steel. Incorporating innovative bi-metal connectors that eliminate wet-wrapping during installation, the TU continues to be the most compact and lightweight valve on the market.