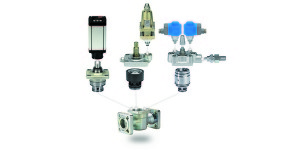 BALTIMORE, Md. – Danfoss has introduced ICV (H)A4A control valve with flanges, the full replacement for all common flanged control valves on the market. Inspired by the pioneering ICV Flexline platform, the ICV (H)A4A control valve's modular design extends the lifetime of existing refrigeration installation while delivering a significant reduction in cost, energy and servicing and maintenance times.
The ICV (H)A4A control valve's single-common valve housing and three functional inserts – the ICS-(H)A4A and ICS-(H)S4A pilot valve, the ICM-HMMV and ICMHMMR motor valve and the ICLX-S9A two-step valve – mean fewer components and a reduced need for spare parts.
Compact, light-weight and easy to install, the ICV (H)A4A control valve is fully flexible due to its modular concept: one valve housing with three multi-functional inserts. This flexible design leads to easier planning, designing and fitting of the refrigeration installation. Also, there is no need for cutting or welding, helping to ensure a simpler installation layout.
For more information, visit www.danfoss.com/ICV.