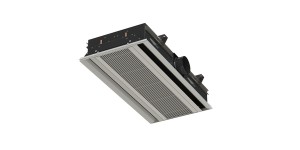 MILWAUKEE, Wis. – Johnson Controls now offers a full line of York chilled beams. York active and passive chilled beams work together with its industry-leading chillers and air handlers to deliver maximum occupant comfort while reducing energy needs for heating and cooling a building.
Chilled beams transport cooling and heating through water versus air, to condition a space, resulting in less energy needed to maintain a comfortable building environment. This flexible solution can meet the requirements of any design or installation.
Reduce first cost
Utilizing a shallow unit which requires 60 percent less vertical space than conventional all air systems and reducing air-handler size/capacity and duct work size up to 50 percent. This allows for reduced slab-to-slab heights, significantly reducing built cost per floor in new construction.
Increase Occupant comfort and indoor air quality
Eliminate uncomfortable air motion from typical VAV Systems.
Maximized energy and operational efficiency
Lower maintenance costs and increase opportunities for free-cooling by utilizing water-side economizers.
For more information, visit www.york.com/chilledbeams.