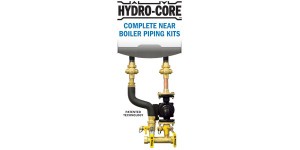 Webstone has released a new edition of the Hydro-Core Boiler Compatibility Matrix at www.webstonevalves.com/boilercompatibility.
Hydro-Core solutions are now available fit around 300 boilers from 25 different manufacturers. Utilize this matrix to find the right Hydro-Core kit for your specific boiler and save over four hours on your next installation with expert-looking results.
Designed specifically for hydraulic separation, pump isolation and purging the near boiler piping or secondary circuit loops, Hydro-Core is the core of any professional hydronic installation and guaranteed to save time, space and leak paths.
Some of Webstone's other offerings include Hydro-Core, The Isolator, Isolator EXP, Pro-Connect and Pro-Pal step saving valves. For more information, visit www.webstonevalves.com.