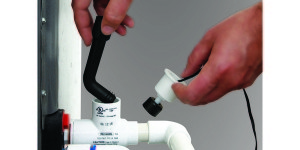 RectorSeal Corp. has introduced the SS1 Directional Cleanout Tool for clearing clogged debris from 3/4-inch primary and secondary condensate drain lines of all air conditioner brands and sizes. The tool uses RectorSeal's popular Safe-T-Switch SS1 inline overflow/shutoff switch body or any condensate drain 3/4-inch PVC inline tee as an access cleanout fitting.
The sturdy ABS plastic tool fits through the top of an SS1 body after removing the electronic float switch. The sturdy lazy L-shaped tool's 5/8th-inch (O.D.) ribbed nozzle fits snuggly into 3/4-inch (I.D.) fittings and helps maintain a tight seal. The opposite end features a plastic female fitting that tightly connects a shop vacuum, RectorSeal's MightyPump drain line pump or other pressurizing device hoses.
An installed SS1 combined with the Directional Cleanout Tool saves service call time, because it eliminates the need for cutting a condensate line for access. Proactively installing an inline safety switch that includes a cleanout access port, such as an SS1, eliminates cutting the drain line on each service call and complies with the new Drain Line Maintenance stipulations of the International Mechanical Code (IMC-Section 307.2.5) and the International Residential Code (IRC-Section M1411.3.3).
Other features of the SS1 Directional Cleanout Tool are:
bidirectional design can position pressurization for upstream or downstream blockages
circumvents labor-intensive jerry-rigging of a blockage dislodging tool or adapting fittings for nitrogen or CO2 cartridge drain line blow-out
fits condensate drain lines of all residential and most commercial air conditioning systems up to 20 tons
can be left on the jobsite or carried in a toolbox
Besides the SS1 Directional Cleanout Tool, RectorSeal also offers a complete line of condensate line drain switches, cleanouts, biocides, drain pans and other accessories that expedite HVAC service calls, protect property, increase profits and provide customer satisfaction.
For additional information, visit www.rectorseal.com.