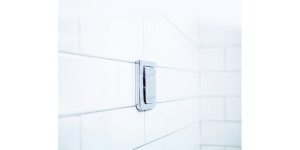 FRANKLIN PARK, Ill. – Sloan recently added to its product line a new flushometer specifically designed to address the needs of a number of global markets, including India, South America, the Middle East and Asia Pacific. The Sloan TruFlush is the first Sloan flushometer marketed specifically to these emerging global markets.
The requirements for products marketed to these countries differ significantly from those of products suitable for the U.S. market. The Sloan TruFlush flushometer was designed for water accuracy and conservation, which is a critical concern in the targeted market regions.
The TruFlush flushometer is available in both manual and hands-free, sensor activation. It has a concealed valve design that is placed behind the wall with a small, aesthetically pleasing 132 mm x 132 mm (5.2-inch by 5.2-inch) wall plate.
The TruFlush flushometer works on wash-down and siphon-jet fixtures at a wide range of water pressures—from 0.7 bars -7 bars (10 psi to 100 psi), accommodates a variety of supply pipe connection sizes and is easy to service via the wall plate.
The product will come in two flush volumes of closet flushometers (6.0 Lpf/1.6 gpf and 4.8 Lpf/1.28 gpf) and three flush volumes of urinal flushometers (1.9 Lpf/0.5 gpf, 1.0 Lpf /0.25 gpf and 0.5 Lpf/0.125 gpf).
For more information on the TruFlush, visit sloan.com/truflush.