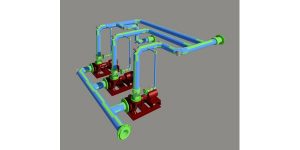 LINDON, Utah – Aquatherm North America officials recently announced the launch of a new Autodesk Revit Library. The polypropylene piping company now provides this software: www.aquatherm.com/revit.
Autodesk Revit allows users to design a building or structure and its components in 3-D, annotate the model with 2-D drafting elements and access building information from the model's database. Revit is 4-D building information modeling capable with tools to plan and track various stages in the building's lifecycle from concept and construction to maintenance and/or demolition.
The new Autodesk Revit library has been updated to match Aquatherm's most recent product catalog and includes all the necessary parts files. Having these part files available means the library will be able to provide parts numbers along with all the information necessary for engineers and designers to build a complete BIM-capable model.
The Aquatherm Revit files contain parts numbers, gallons per minute, flow analysis, stress analysis, volume, dry weight and water weight.
Aquatherm also offers 3-D .dwg files for other software by request. The .dwg file format is one of the most common file formats found in most CAD design software and is compatible with AutoCAD, and other Autodesk products. The company also offers a .step library by request.
For more info, visit Aquatherm.com.