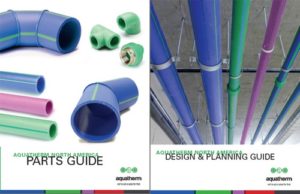 LINDON, Utah – Aquatherm North America has released the new Aquatherm Design & Planning Guide and its companion piece, the Aquatherm Parts Guide. The guides replace the previous version of the Aquatherm North America Catalog, with the Parts Guide offering a complete listing of all standard Aquatherm parts and the Design & Planning Guide delivering updated information on all aspects of designing piping systems using North America's preeminent polypropylene piping system.
Both guides feature updated product information, including the company's newest piping offering, Aquatherm Blue Pipe SDR 9 and other essential information for designing and ordering Aquatherm pipe and products. The guides are available in digital form at www.aquatherm.com/documents and hard copies are available via Aquatherm local manufacturer's representatives or regional sales managers.
New digital versions of both guides are an important part of this update.