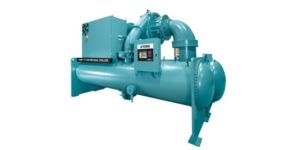 Johnson Controls has extended the capacity range of its YORK YZ Magnetic Bearing Centrifugal Chiller to include chillers beyond 1,000 tons (3,516 kW), now up to 1,350 tons (4747 kW) of refrigeration. In early 2018, the YORK YZ Chiller, the first chiller fully optimized for ultimate performance with a next generation low-global warming potential refrigerant—R-1233zd(E), was launched with a capacity range of 165 to 1,000 tons (580 to 3516 kW).
The extended capacity, AHRI-certified YORK YZ Chiller uses an integral, variable speed drive and advanced magnetic-bearing technology that features a single-moving assembly suspended in a magnetic field that does not require lubrication. This technology requires 80 percent fewer moving parts than traditional oil or refrigerant-lubricated drivelines. The result is enhanced reliability, reduced maintenance and improved efficiency.
The YORK YZ Chiller uses an optimized single-stage design to provide industry-leading, real-world energy efficiency. The chiller's system simplicity, high reliability, lower maintenance and wide-operating map are all thanks to the advanced lubrication-free magnetic bearings that can handle any operating condition, and now that technology is available at even higher capacities.
For more info, visit YORK.com/Next.