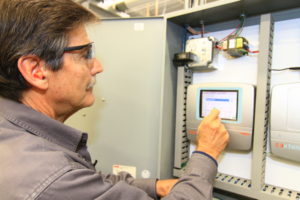 Bob Dak's career as one of the industry's top testing and balancing professionals culminated when his name was added to the International Certification Board/Testing, Adjusting, and Balancing Bureau Hall of Fame.
Recently retired, Dak began his career in 1974 as a service technician trained through the Plumbers, Pipefitters and Service Technicians Union. In 1983, he was working for Air Rite Air-Conditioning & Refrigeration — where he served 15 years — when he was sent to check out a fire at a Seafood Broiler restaurant. Dak recalled the fire was a result of improperly fitted equipment leading to negative air pressure. "The air was sucked into the kitchen through the hot water heater flue. This caused flames to roll out, which caused the fire."
After the fire, Del Allen, the owner of the California-based Seafood Broiler chain, required a certified air balance on his restaurants. In the late '80s, Dak started his own business as a certified signatory air balance company and signed up with what is now Sheet Metal Workers Local 105 to pursue every certification offered.
Leslie Reinmiller, director of the Southern California Sheet Metal JATC Local 105, encouraged Dak to try teaching. He was then encouraged to teach at industry conferences. Along the way, he juggled positions in the industry, serving the longest with ACCO Engineered Systems, where he worked for 17 years, helping to pioneer work with California Title 24 and fire life safety. Add to that, Dak's work on the task force for the development of the Laboratory Fume Hood Performance Testing and Green/ LEED Construction for the Sheet Metal Industry student textbook.
"Bob has helped hundreds of apprentices and journeymen become certified air balancers," Reinmiller said. "I can't think of a more deserving person than Bob."
For more information, visit icbcertified.org or tabbcertified.org.